JTEKT develops Grease-lubricated high-speed ball bearing for EV motors
May 28,2020
Automotive Aftermarket

Products&Technology
JTEKT Corporation (hereinafter JTEKT) has developed a grease-lubricated ball bearing that enables the world's fastest*1 high-speed rotation of more than 1.5 million dmn for use in the driveline unit motors of electric vehicles (hereinafter EVs) With this development, JTEKT is addressing the need for smaller motors and higher rotational speeds due to higher motor output, which will help to improve electric power efficiency and extend the range of the vehicle.
*1 According to our research
dmn:A value that expresses the rotational performance of a bearing Pitch circle diameter (mm) x rotation speed (min-1)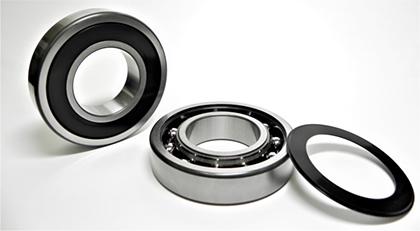 【Photo of the developed bearing】
1.Background of the development
EVs have been spreading rapidly in recent years, and are attracting attention as a technology that has a low environmental impact and can clear increasingly stringent fuel economy regulations. Further development of technologies for EVs is required to increase the efficiency of electric power and to improve safety and comfort.
In particular, the trend toward smaller and more powerful motors, which are directly linked to improved fuel and electric power efficiency, is driving demand for bearings that support motors to have higher rotational speeds.
Therefore, it has been an issue to develop a bearing that will not be damaged or seized even under high-speed rotation. In response, JTEKT has developed a high-speed, grease lubricated ball bearing for use in the motors of EV driveline units that solves these problems.
2.Features of the New Product
As a technology for higher rotational speeds of bearings, it is common to devise the shape of the crown-shaped resin cage, however, the increased centrifugal force caused by higher speeds has resulted in problems such as cage deformation, damage due to interference with other parts, and seizure. Therefore, we have developed a new innovative cage with a new shape that is completely different from the crown-shaped cage, and have made it possible to achieve even higher speeds by using a proprietary grease.
Development of the new shape resin cage
The shape of the ball pocket is ingenious.
Lighter weight design reduces the influence of centrifugal force.
Improved lubrication by adopting a shape that holds the grease.
The axial dimensions of the cage have been downsized compared to the conventional crown-type cage for high-speed rotation.
Adoption of JTEKT's original grease
Improved lubrication performance under high temperature and high speed conditions
The life of the grease is also improved.
This product further improves the high speed performance of grease lubricated ball bearings to over 1.5 million dmn without increasing the bearing width.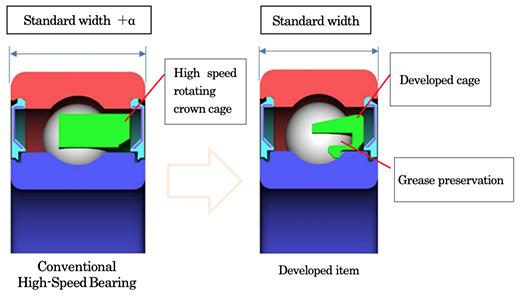 【Features of the New Product】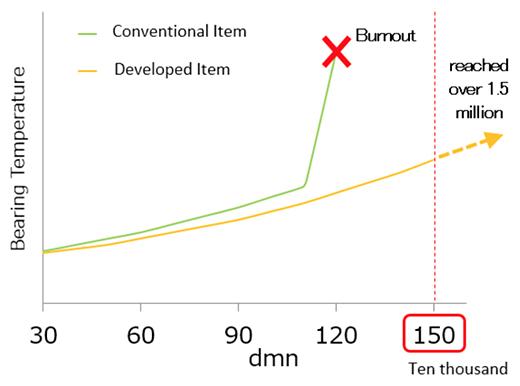 【The results of evaluation】
3.Sales plan
[Start of volume production] Planned in 2025
[Sales target] 300 million yen/Year
[Customers] Domestic and global automakers, driveline motor manufacturers
4.Production plant
Kameyama Plant, Shikoku Plant, DAIBEA CO., LTD. (JTEKT Group Company)
JTEKT Corporation has newly created a tagline "Key of your operation" for the bearing brand "Koyo". JTEKT will continue contributing to every industry including automotive manufacturers as an indispensable partner to solve customers' problems through working with customers and to provide benefits.