After 100 years as Koyo Bearings A new legacy begins April 2022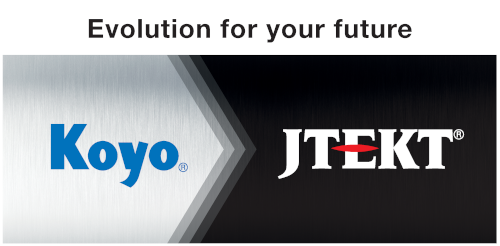 Koyo Bearings celebrated its 100th anniversary in 2021. We are proud that you have chosen to partner with us for such a long time, and we thank you for choosing Koyo.
Beginning April 1, 2022, Koyo will be rebranded as JTEKT.
We believe that this transformation of Koyo to the JTEKT brand has great significance and is part of our "evolution" in becoming a true solution partner for all our customers.
This is a "Technological Evolution" of high-quality and reliable bearings for automobiles and high-precision products for machine tools.
Its an "Evolution of Development" through innovation and resources that transcend the boundaries of businesses such as automobile parts, machine tools, and bearings.
An "Evolution of Proposals" that delivers JTEKT Group products and services across industries that can meet customer needs in a timely manner.
We are convinced that our brand unification is a natural "evolution" that could not be achieved by Koyo alone.
Together with our customers, JTEKT aims to be "No. 1 & Only One", building a better future for society and our planet.