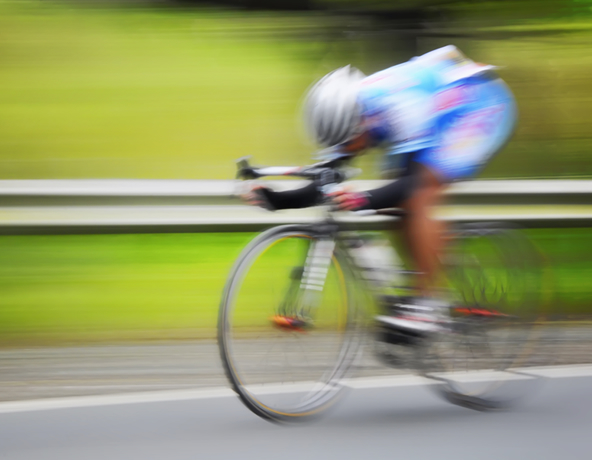 Contributing to the World's Best Riding in 2021!
Development of a Bearing for Racing Bicycle Wheels
Customer outline

ARAYA INDUSTRIAL CO.,LTD.



Product

Racing bicycles
Problems

Make the bicycle go faster for strong race performance
Meet the needs of the rider as best possible
Increase speed while enhancing ride comfort
Easier maintenance
Enable smooth race operation without impact from mud and dirt

Solutions

Develop a ceramic bearing with 50% less rotational torque (than our conventional product) by applying a special internal design featuring ceramic balls
Prevent the intrusion of foreign matter by changing the seal structure to improve sealing performance
Adopt a design with a separate type inner ring that can be easily disassembled
Develop a hybrid ceramic bearing with ceramic balls and stainless steel inner and outer rings for rust resistance
Significant increases in speed were achieved
A rust-resistant bearing with improved maintainability was developed and preparation times shortened
Durability, such as when ridden on rough roads, was improved
Three Advantages Provided by JTEKT
(1) Faster speed
Nothing is more important for a racing bicycle than speed.
With its ceramic balls and bearing ring with an optimized internal design, this newly developed bearing features a rotational torque that is 50%* less than that of our conventional product. (Fig. 1) * In-house comparison
This means that resistance during tire rotation is minimized, making pedaling lighter so that the bike can go faster.
(2) Easier maintenance
Racing bicycles require the rider to tighten nuts on the hub to adjust the backlash and rotational feel as desired.
This newly developed bearing is designed to be easily disassembled for maintenance during races or when lubricating.
It also features stainless steel inner and outer rings for rust resistance in rain or humidity.
(3) Enhanced comfort
Preventing intrusion of foreign matter into the bearings is essential for maintaining speed and feel.
The non-contact labyrinth structure used for the seals of this newly developed bearing improves sealing performance without increasing rotational torque.
This enables the bicycle to be ridden comfortably even in road races where foreign matter such as mud and dirt can get inside easily.
Comments from Our Customers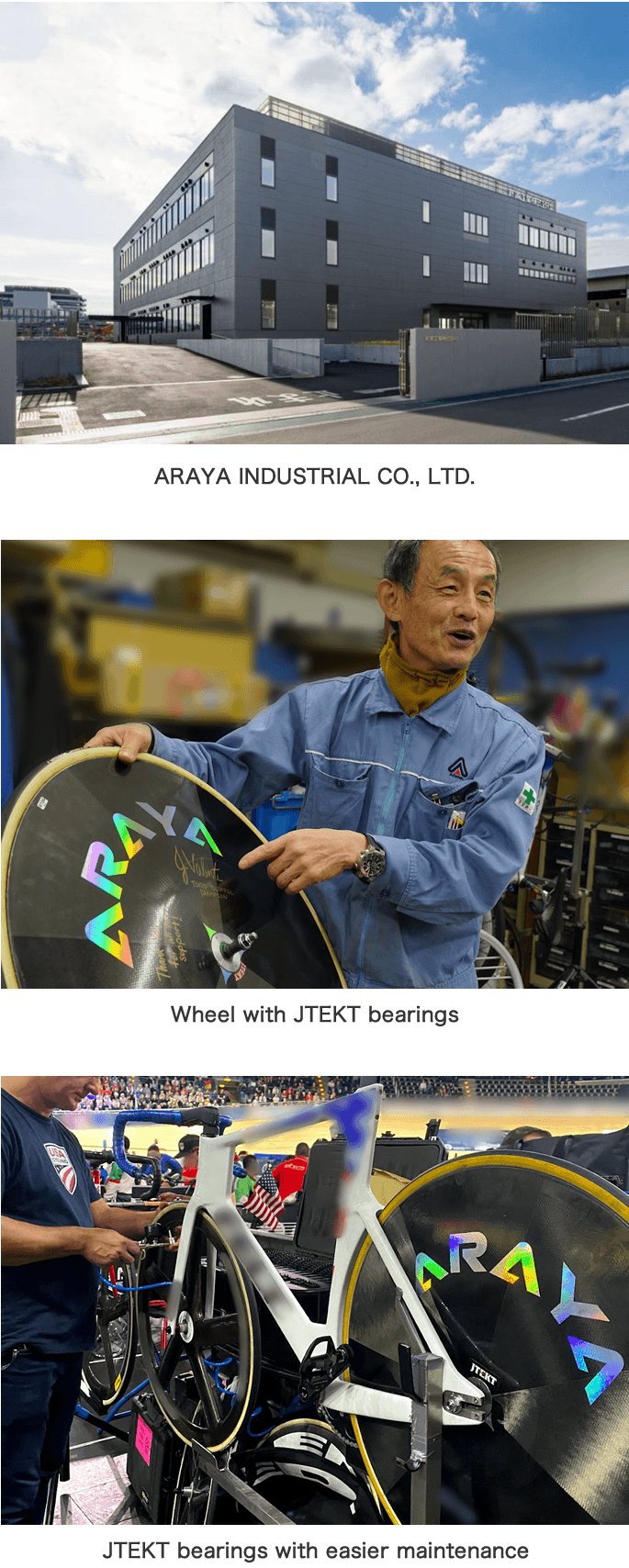 The bearings we used in the past had problems in terms of production and accuracy.

We were also requested by riders preparing for an international race to create a bicycle that was both lighter to ride and easier to maintain.
This made us think of the bearings JTEKT manufactured for our company's wheelchairs, and we decided to reach out to JTEKT, who is well-known as a manufacture of ceramic bearings.

An up-and-coming rider from the US team then test rode a bicycle featuring wheels with rider-customized bearings developed by JTEKT, and we decided to start using them following the rider's high evaluation. Thanks to this, riders on bicycles with these bearings developed by JTEKT were able to achieve great results in 2021 international competitions.

Furthermore, because bicycle races are held outdoors as well as indoors, the sealing performance of the bearing and the material used for the inner and outer rings were also important. Riders have been very pleased with the bearing developed by JTEKT, which has provided significant improvement in these areas while also extending bearing life by preventing the intrusion of rain and mud. We look forward to the continued cooperation of JTEKT in our development efforts to achieve even better results.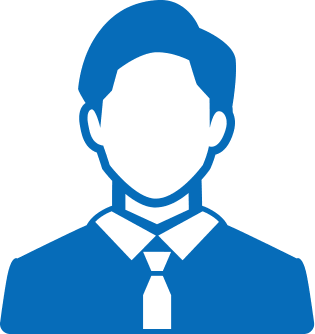 Using the technology and expertise we have acquired thus far to meet customer needs to the greatest extent possible
Things like torque management during assembly or the ease with which tire replacement is performed involve many sensory aspects.
However, because such things aren't quantitative, achieving results proved difficult.
Product: Angular contact ceramic ball bearing with seal, deep groove ball bearing

Other possible applications: Skateboards, wheels for racing bicycles, road bicycles

The optimized internal design and materials of this newly developed bearing improve rotational performance and facilitate maintenance, contributing to enhanced racing bicycle performance.