Bearing internal clearance is defined as the total distance either inner or outer ring can be moved when the other ring is fixed.
If movement is in the radial direction, it is called radial internal clearance; if in the axial direction, axial internal clearance.
(Fig. 10-1)
Bearing performance depends greatly upon internal clearance during operation (also referred to as operating clearance); inappropriate clearance results in short rolling fatigue life and generation of heat, noise or vibration.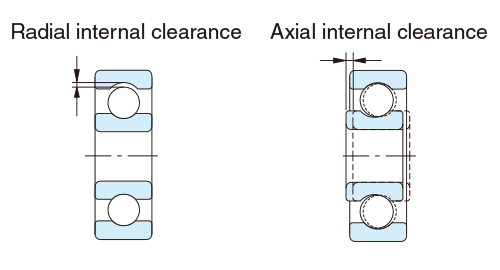 Fig. 10-1 Bearing internal clearance
In measuring internal clearance, a specified load is generally applied in order to obtain stable measurement values.
Consequently, measured clearance values will be larger than the original clearance by the amount of elastic deformation due to the load applied for measurement.
As far as roller bearings are concerned, however, the amount of elastic deformation is negligible.
Clearance prior to mounting is generally defined as the original clearance.